Obtaining the Green Talents Awards has been a great achievement. The Science Forum was a good introduction to Germany as a country and research landscape. The idea of living in a foreign country across the world was a scary idea to me. I was nervous about the integration, the weather, culture and everything in between. I had no idea what to expect from the programme and living in the city of Bonn, being the first time living in another country for more than a month. Looking back, it was definitely a worthwhile experience. My research stay has granted me the opportunity to envision myself working and living in a completely different environment. I conducted my research stay at the Centre for Development Studies commonly referred to as ZEF under the University of Bonn, and my research supervisor was Dr Girma Mensuro. The main objectives for my stay were to gain technical insights and knowledge on producing an academic research paper, to draft a paper for publication and doctoral programmes. I managed to meet my objectives and so much more.
It was great to be in a space filled with professionals from different fields and a range of expertise working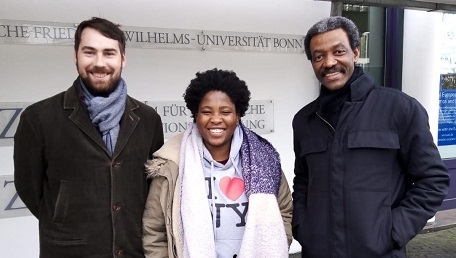 on development research. I learned about the great work that ZEF does, particularly on sustainability issues such as health, energy, food and water. Working with Dr Girma helped me with theorising, articulating and structuring my draft paper, which we are still collaborating on until we do the final submission. His expertise in interdisciplinary research and knowledge in the energy and sustainability field helped with my work. I was given the opportunity to present my work at the periodic colloquium and received meaningful feedback that I could use to improve my research paper. The ZEF staff was overwhelmingly kind and supportive throughout my research stay.
This experience gave me a glimpse of what it would be like to live and study in Germany, particularly studying towards a doctoral programme. I interacted and made friendships with the doctoral students at ZEF, I had the chance to understand their various research backgrounds and interests, the challenges and work that is necessary within a doctoral programme. Considering that I would like to apply for a doctoral programme in Germany, this provided firsthand exposure to what it might entail.

Germany is a beautiful country with a complex history, and I enjoyed seeing different parts of it, tasting the food and listening to the music. I struggled with adjusting to the weather conditions; I now truly understand the statement "the winter blues" because the lack of sun was hard to adjust to. Besides the cold and dark winter, it was an interesting experience, I visited my first Christmas market and it was magical.
Through this experience, I have enhanced my research and writing skills, expanded my network and gained knowledge that I will use as a young researcher and professional.
Read more about Pheladi Venda Tlhatlha.