2019 was my third time in Germany, this time for a little longer – almost three months for my research stay at the Institute for Applied Material Flow Management (IfaS) at the Environmental Campus Birkenfeld of the Trier University of Applied Sciences. It had been an amazing experience, and I am eternally grateful for being selected as one of the 25 Green Talents for 2018. The Green Talents programme gave me an opportunity to meet a like-minded passionate group of young researchers from all around the world and also interact with practitioners working in the areas of sustainable development and circular economy.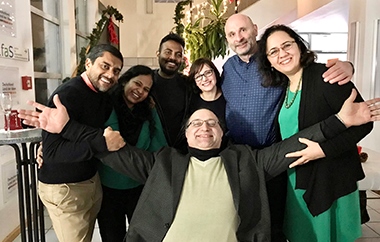 I still remember the excitement I had when I saw the email from Green Talents in 2018, saying that I was selected for the programme. The level of excitement grew as the days approached for the Science Forum. I am sure all my fellow Green Talents friends will agree that the Science Forum exceeded all our expectations (A very special thank you goes to Julia and Marc!). After careful consideration of my research interests, I selected the Environmental Campus Birkenfeld to conduct my research stay. My supervisor was Prof. Peter Heck, the Managing Director of IfaS. IfaS has been at the forefront being engaged in the implementation and the dissemination of practical knowledge of Circular Economy around the world. I was lucky that two Sri Lankans – Ranahansa Dasanayake and Navoda Senanayake – are already working/studying at IfaS. They helped me in every possible way to settle well on campus.
My research stay was from October to December in 2019. The time was central for two reasons. First, I had the opportunity to attend the Green Talents 10th Anniversary Conference in Berlin. It was an amazing experience to meet and interact with Green Talents fellows of the past years. Secondly, the 10th International Circular Economy Week and Conference organised by my host institute took place during the same time. The conference brought together researchers and industries from around the world working in the area of circular economy and provided a great platform to network with scholars from other countries. As part of the circular economy week, I also got the opportunity to visit some of the best waste and energy management companies in the region.
My aim during the research stay was to expand my knowledge on theory and practices of circular economy. Lectures, workshops and discussions with staff were very useful in this regard. I shared my office with a visiting professor from Japan, Prof. Faezeh Mahichi, who has years of teaching and research experience in Japan. This provided me an opportunity to have some interesting discussions on various topics on sustainable development and environmental management. Co-sharing knowledge with experts in the field was one of the direct benefits of the research stay. Further, I also had the opportunity to visit the upcycling centre managed by IfaS. Myself and Prof. Mahichi were invited to present the work we do in our home countries to the staff at the centre. We are currently working on a paper on upcycling case studies from Germany, Japan and Sri Lanka and will continue to collaborate on upcycling projects.
Our careers and paths are not enlightened if we do not expose ourselves to new experiences. Green Talents opened up the door way to a whole lot of other opportunities beyond a research experience in Germany. I had the opportunity to be a facilitator at the Youth Climate Forum held in Mainz which was an event organised in line with the "Fridays for Future" movement in Germany. On 22 November 2019, around 100 young people came together at the Forum in the Old Lokhalle in Mainz to discuss problems and possible solutions that could then be submitted to policy makers. With this experience, I am planning to organise a similar event in Sri Lanka.
Doing a research stay is not only about working at a university. It is also about exploring the country and experiencing the culture. I was in Germany during the autumn-winter season. Coming fro
m a tropical island, I am not a huge fan of the cold weather. On the other hand, it was the Christmas season, and the Christmas spirit added a completely different vibe. Christmas markets, beautiful decorations, Christmas sweets – it was a magical experience and added to the beautiful memories of my stay. The Christmas party held at Prof. Heck's house and the IfaS Christmas dinner on the last day of the semester were highlights of the last few days of my stay. Moreover, I was able to find time to explore the nearby cities and places during the weekends. The beautiful cities of Saarbrucken and Trier are full of tourist attractions. Also, as the campus is located in an area bordering France and Luxembourg, I managed to find time to visit Paris and Luxembourg as well.
Finally, I would like to thank the amazing staff and students at IfaS, especially Prof. Peter Heck, Ranahansa Dasanayake, Navoda Senanayake, Evi Hubig and Jackeline Martínez Gómez, for making my research stay a smooth, productive, and enjoyable experience. A special thank goes to Faezeh Mahichi and Aurelie Kono for all the interesting conversations we had during our lunch hours. As Christopher McCandless's infamous quote states, "The joy of life comes from our encounters with new experiences, and hence there is no greater joy than to have an endlessly changing horizon, for each day to have a new and different sun."
Thank you, Green Talents Team and the Federal Ministry of Education and Research, for making this possible!
Read more about Dr Randika Jayasinghe.