PhD in Computer Science

Current position: Data Scientist (KTP Associate) at The University of Hull & Reckitt, United Kingdom
Research focus: Explainable Artificial Intelligence for operations and maintenance of wind turbines
Joyjit's research aims to develop an artificial intelligence (AI)-driven, trustworthy decision support system for the wind industry to increase turbine reliability. This system will provide transparent and explainable predictions of incipient faults in turbines deployed in challenging environments (e.g., offshore). From this, human-understandable maintenance measures can then be derived to avoid these faults. With this project, Joyjit addresses multiple Sustainable Development Goals, with a key focus on Goal 7 (Affordable and Clean Energy), with additional contribution to Goals 9 (Industry, Innovation and Infrastructure), 11 (Sustainable Cities and Communities), and 13 (Climate Action).

While machine learning techniques have been used in the past to predict incipient failures in turbines, they generally suffer from the drawback of being black boxes, which makes turbine operators reluctant to adopt such techniques for data-driven decision-making. Joyjit's research focuses on applying Explainable AI techniques, specifically deep-learning models for natural language generation and causal inference. These techniques can bring transparency to the decisions made by the black-box natured models and, thereby, assist engineers in better understanding potential risks and taking appropriate actions to prevent disaster. In his research, Joyjit uses real-world operational data from offshore wind turbines for data-driven decision-making in preventing impending failures in wind turbines by learning from historical failures recorded in the alarm logs.

Wind farm operators can use the results of Explainable AI in addressing challenging concerns faced in high-risk environments (such as offshore wind farms) and mitigating the risks of unexpected failures and inconsistencies associated with these environments (harsh weather, uncertain operating conditions, etc.).
Joyjit's sustainability research has been conducted during his PhD, supported by a PhD scholarship from The University of Hull and the Aura Innovation Centre, United Kingdom.
Joyjit works on improving operations and maintenance of wind turbines through artificial intelligence. By increasing the reliability of wind turbines, wind energy can become an attractive renewable energy source for organisations across the globe. This idea convinced the jury, as did the interdisciplinary approach of the highly motivated and promising researcher.
The research of Joyjit mainly contributes to the Sustainable Development Goals 7, 9, 11, 13: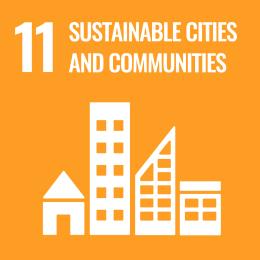 Take a look at this video that briefly introduces Joyjit and his research: